Historically

" I AM"

steps out of background into foreground on behalf of enslaved people in the most powerful country at the time: African & Native American Lives Matter!!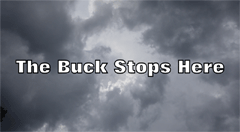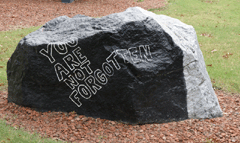 The CREATOR, ultimate father to all and defender of the disenfranchised, in North Carolina Agricultural And Technical State University established a Land Grant University where the sons and daughters of former slaves and slave owners, coal miners daughters and sons, alleged trailer park trash, working people, and the disenfranchised World Wide, can potentially move pass their pass, working together through shared experiences and competition, potentially embracing the ideal they don't have to kill each other, as they prepare for their future in an education setting accessing world wide education opportunities at the highest levels - HIS plan.

CREATOR's FREE Will: "What's the point of being all powerful unless you get what you want !!"
North Carolina Agricultural And Technical State University
delivers educational programs and technology to enrich the lives, the land and the economy of North Carolina's limited-resource individuals, families, and communities. A&T Media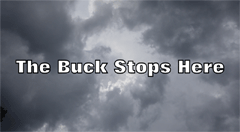 Established in 1891 as North Carolina Agricultural and Mechanical School for the Colored Race. North Carolina Agricultural And Technical State University, the largest public HBCU, is s
econd in graduates early career earning among the 16 constituent senior public universities in University of North Carolina System;

n
otwithstanding receiving only 3.0 % of the State approx. $3.0
Billion dollars appropriation to the UNC System. Since 2005
when a Sports Hall of famer, with merit, asked God to Bless NC A&T, the university has ranked third in the UNC System in Sponsored Research Funding- CREATOR Blessed A&T.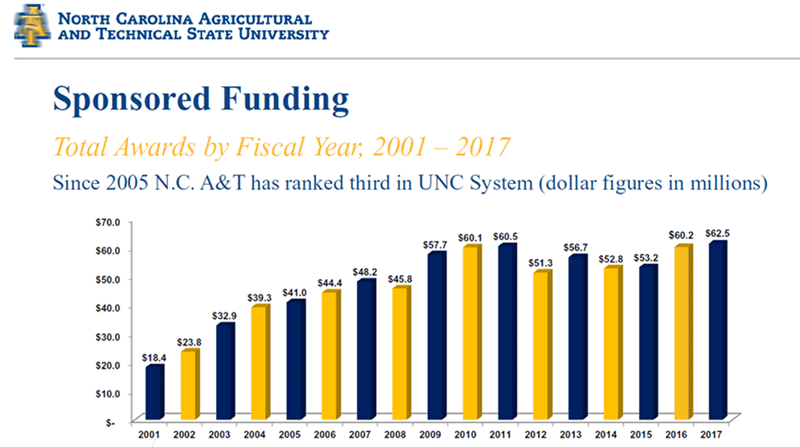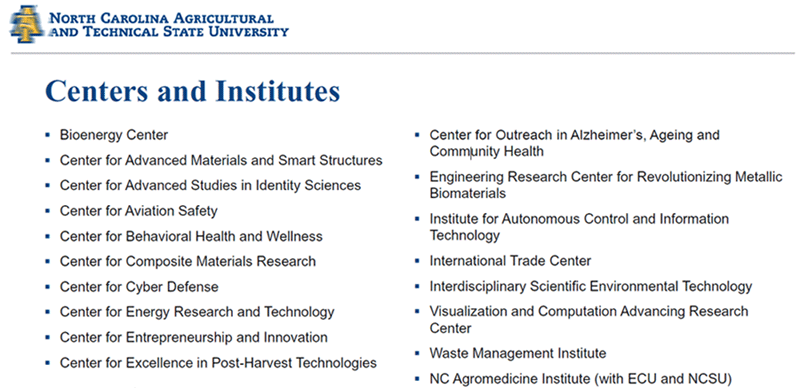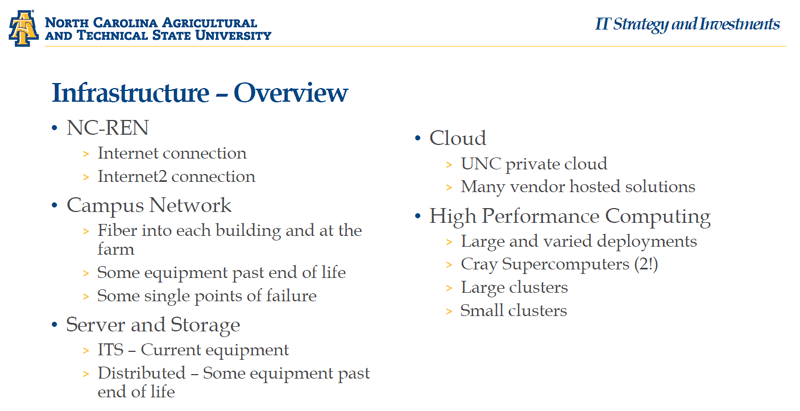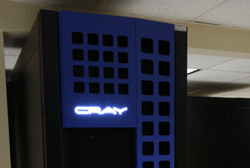 N.C. A&T has two Cray Supercomputers(2), an amazing assortment of high performance computing capabilities, and is connect to Internet2 (NC-REN) a North Carolina Research Educational network focused on high speed traffic and research data. NC A&T has two super computers, they are like aircraft carriers.
A Professional Academic - Research Education you can take to the Bank
A Professional Academic - Research Education you can take to the Bank - Land Grant (The) North Carolina Agricultural and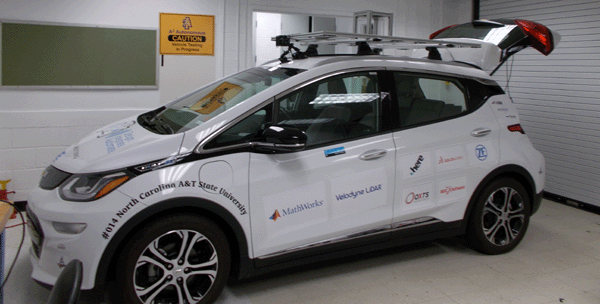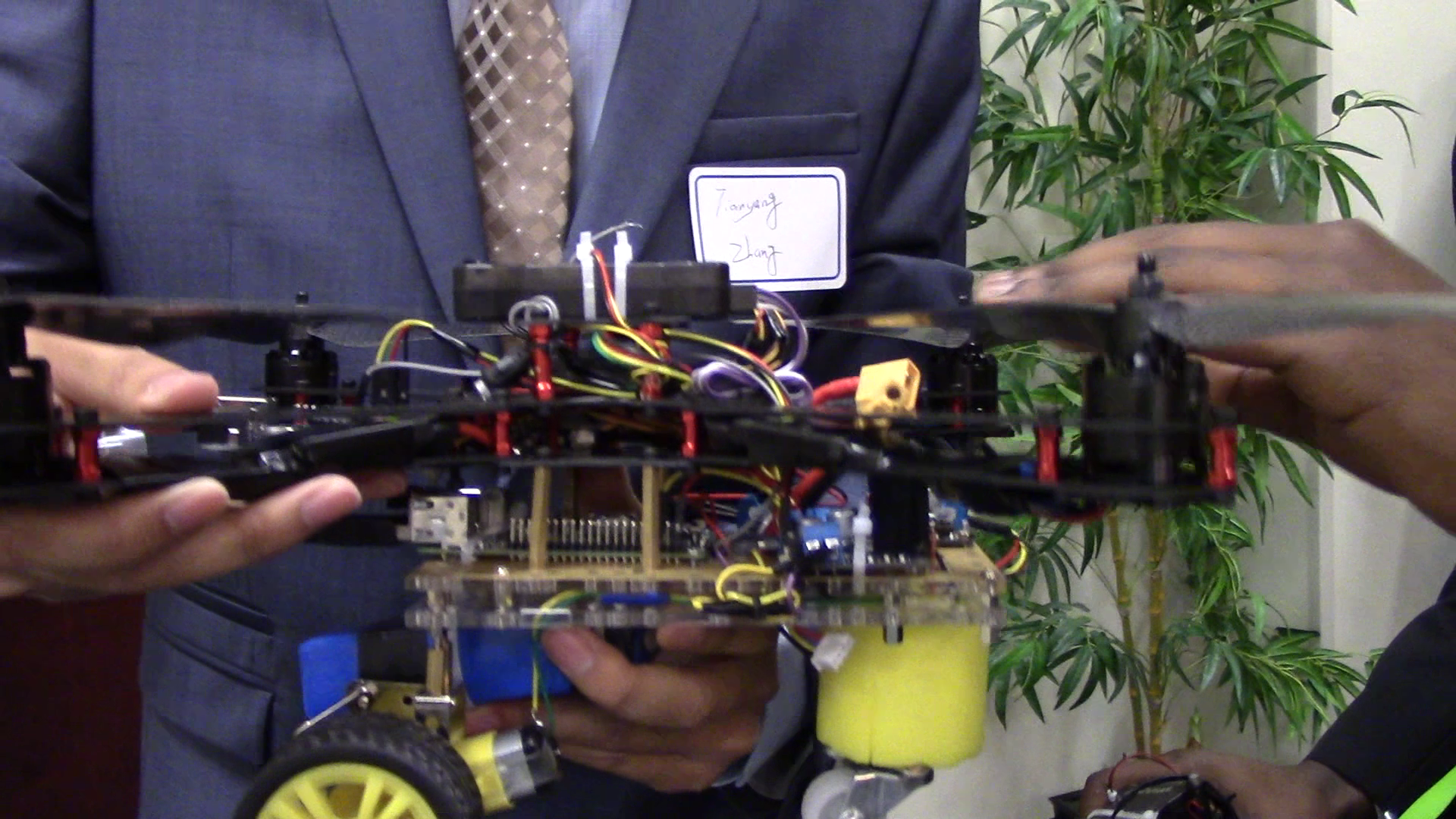 Technical State University, established to provide science driven practical educations in 1891, third in Sponsored research funding, second in Graduates early career earning, and first in affordability in the UNC System, home-place of innovation, among the leaders in STEM, STEAM, Agriculture education, and Supply Chain Management. NC A&T is the place where the students made the brick to build the building in which to be educated. North Carolina A&T State University diverse National and
International Faculty and Staff cooperative relationships with National and International Institutions, Corporations, Government Agencies, other HBCUs, and Alumni network, offers
Tomorrow's Technology & Innovation Today. [
A&T is one of eight North American Universities selected for General Motors AutoDrive Challenge] [
NC A&T Aerial (UAV) & Ground (UGV) Hybrid Vehicle Video]
(The) North Carolina Agricultural and Technical State University Autonomous Auto Team Places first in the country and second overall in the 2019 SAE Autodrive Challenge Tonya Dixon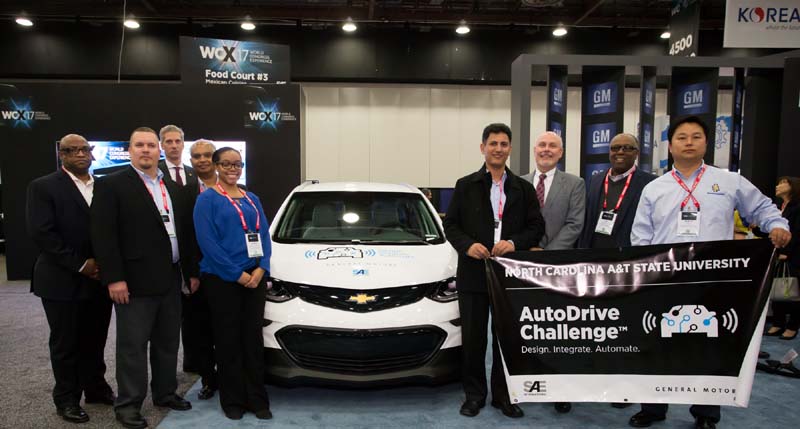 Photo courtesy of Autodrive Challenge/NCA&T


"The A3 car innovations were all hand built. The coding and fingerprints were all done by students of N.C. A&T." said Kareem Hogan, electrical engineering Ph.D. candidate and A3 team co-captain

EAST GREENSBORO, N.C. (June 17, 2019) – The North Carolina Agricultural and Technical State University Aggie Autonomous Autoteam (A3) finished second overall and first in the country in this year's SAE Autodrive Challenge national competition.
Now in the second year of the three-year competition, the College of Engineering's A3 team competed against seven North American teams including Virginia Polytechnic Institute, Michigan State University, Michigan Technical University, Texas A&M University, University of Waterloo and Ketterling University, each transforming a Chevy Volt into a functional autonomous vehicle.
AWIS and N.C. A&T Form Partnership to Advance Women in STEM Tonya Dixon

"Our goal is to take a holistic approach to help remove the systemic challenges and barriers that impede women from advancing in their STEM career whether in a classroom, lab, office setting or in the field," said AWIS CEO Sandy Robert. "We are excited about this partnership with North Carolina A&T for its commitment to diversity and being the top producer of African American engineers across all levels."
EAST GREENSBORO, N.C. (March 12, 2019) – The Association for Women in Science (AWIS), the leading association that advocates for women in science, technology, engineering and mathematics (STEM), recently formed an institutional partnership with North Carolina Agricultural and Technical State University.

As an institutional partner, AWIS will collaborate with N.C. A&T's ADVANCE Institutional Transformation (IT)
project, which is designed to address the systemic underrepresentation of women within the ranks of higher education faculty. "As an academic and research leader in STEM, N.C. A&T is committed to the achievement and success of students, as well as faculty," said Sherrice Allen, Ph.D. project director for ADVANCE-IT.

"We are excited about this partnership with AWIS and even more excited to know that our female faculty members in STEM will be exposed to more opportunities and equitable access throughout the STEM profession."

Through the partnership, AWIS will provide faculty with professional development and leadership training to help them succeed in their mission to achieve full equity and participation of women in all disciplines of STEM. In October 2018, AWIS presented a workshop focused on leadership advancement and strategies for collaborating with industry advocates and allies.
Largest Spring Career Fair at N.C. A&T for All Majors to be Held Feb. 21
Downing Named Executive Director of Career Services and Experiential Learning for N.C. A&T Tonya Dixon
EAST GREENSBORO – (Feb. 20, 2019) – The Office of Career Services (OCS) at North Carolina Agricultural and Technical State University will host the spring career fair from 9 a.m. – 2 p.m., Thursday, Feb. 21, in Corbett Sports Center. The event marks the university's largest spring career fair, to date, including over 220 employers and 640 representatives. A full list of participating employers is available OCS fairs are designed to connect students of all classifications with employers to build relationships, explore career opportunities (full-time, internship, and co-op), and converse about industry trends.
N.C. A&T Partners with Food Lion Feeds to Address Hunger and Food Insecurity
Tonya Dixon

"People need to see what food insecurity and what hunger look like. They have no face. It looks like you and me," she said. "It's a win-win situation. Our goal as Aggies is to make our food pantry sustainable on campus and get as much food collected as possible. The end goal is to stop food insecurity in general." Nicole Gregory, a food and nutritional science student and Miss Senior serves as the MVP Ambassador and a campaign leader.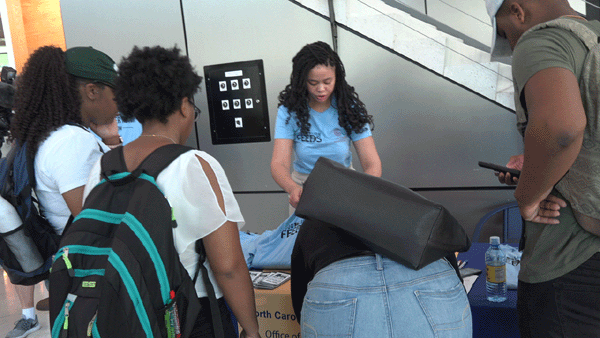 East Greensboro, N.C. (Sept. 25, 2018) – North Carolina Agricultural and Technical State University has joined forces with Food Lion Feeds and North Carolina Campus Compact for a "Collegiate Challenge" to address hunger and food insecurity in the local East Greensboro community and throughout the state.

"We are excited to partner with NC Campus Compact and these 18 campuses that are already doing so much around food insecurity," said Pat Taft, Community Relations Manager for Food Lion. "We want to encourage the great work these students are already doing and by supporting their efforts we can broaden the reach of our hunger relief efforts in the towns and cities we serve."
N.C. A&T Family Set to Grant Holiday Wishes to Local Foster Children

Tiffany S. Jones
EAST GREENSBORO, N.C. (Nov. 20, 2018) – To kick off the traditional season of giving, North Carolina Agricultural and Technical State University faculty, staff and students will unite to grant holiday wishes of more than 200 foster children during the second annual "Winter Wishes in Aggieland."

The Aggie family will gather with representatives from the Guilford County Department of Health and Human Services at the Deese Clock Tower in the center of campus at 5 p.m., Monday, Dec. 3, 2018, to collect holiday gifts.

"Winter Wishes is all about our university doing its little part to ensure that these children, who are in foster care through no fault of their own, are able to have a little holiday cheer," said Ray Trapp, director of external affairs at N.C. A&T.
As a land-grant institution, A&T remains committed to continuing its heritage and history of service and civic and community engagement.
4H & Cooperative Extension Stem programs are larges youth programs in the Country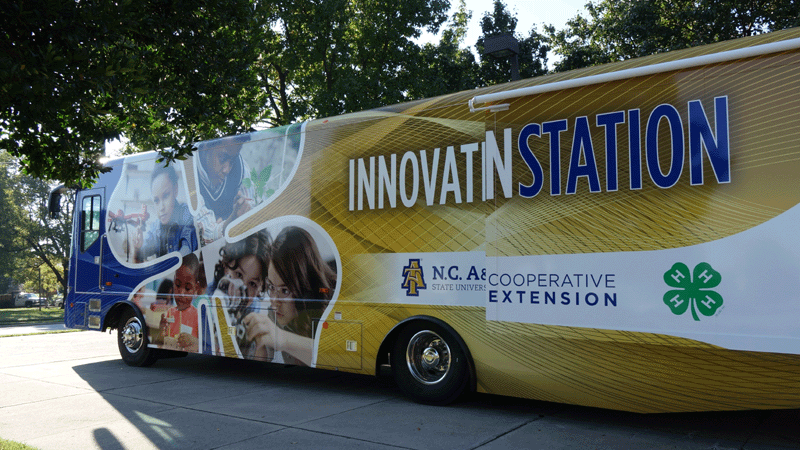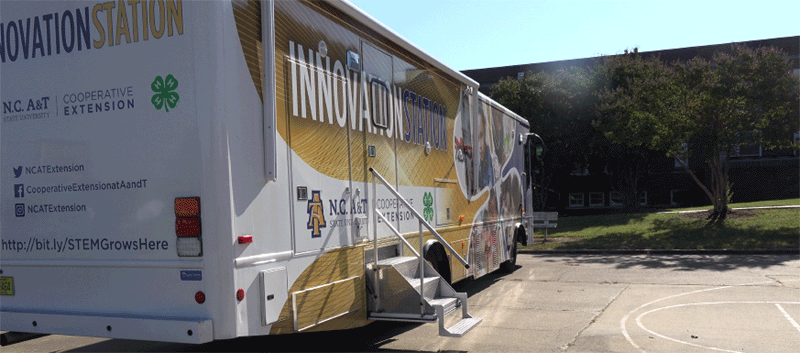 N. C. A&T Cooperative Extension in 2018 Unveil Innovation Station, a 41-foot-long mobile science, technology, engineering and mathematics lab and maker space.
HIGH SCHOOL STUDENTS SPEND SIX WEEKS AS BIOENGINEERING RESEARCHERS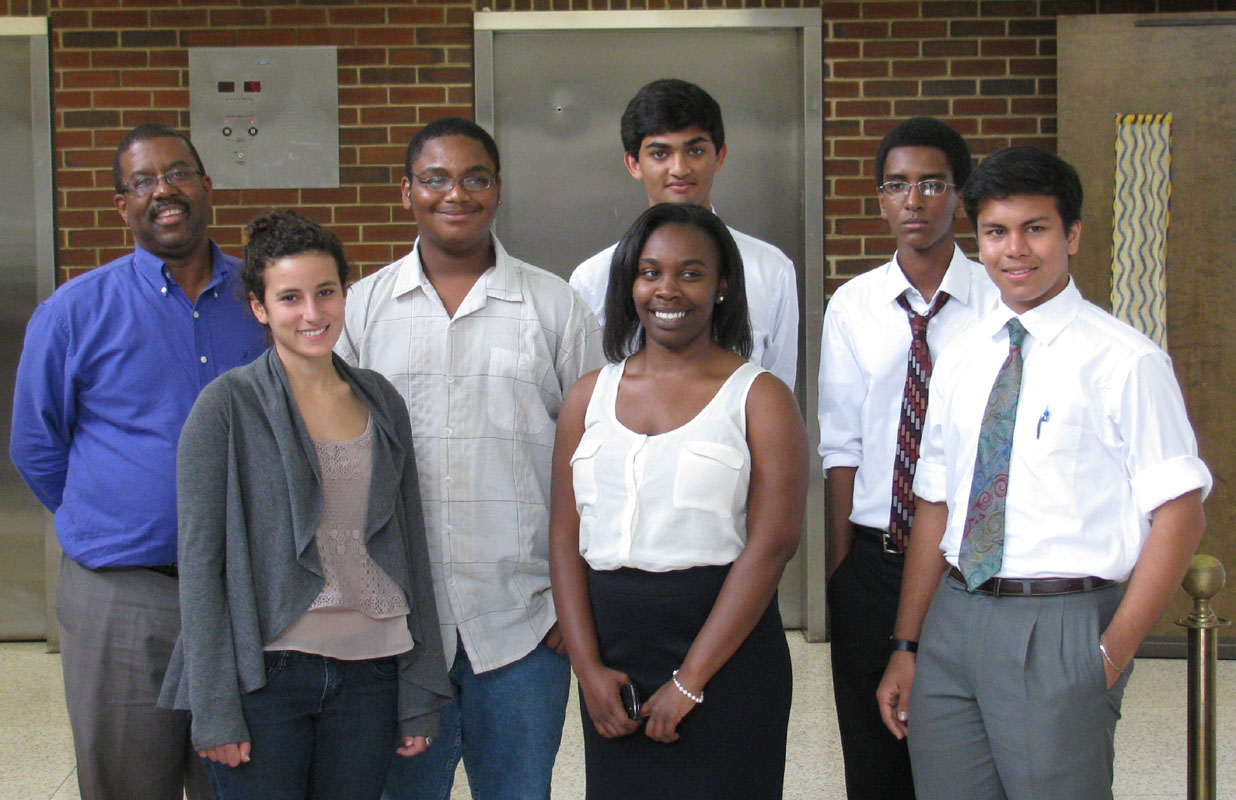 NCA&T Photo: From left: Faculty advisor Vernal Alford and Young Scholars Shira Chandler, Dondre McCaskill, Brianna Hargett, Aditya Badve, Ephraim Bililign and Aditya Garg

GREENSBORO, N.C. - If you ask Greensboro high school student Brianna Hargett what she did over the summer, you won't get a typical answer. She'll tell you about her research in automatic imaging analysis of biomaterials. Ms. Hargett and five fellow students from local high schools didn't have ordinary summers. They spent six weeks as hands-on bioengineering researchers at the Engineering Research Center (ERC) at North Carolina Agricultural and Technical State University. As participants in the ERC's Young Scholars program, they worked on the center's core projects alongside N.C. A&T professors and graduate students, as well as eight local high school and community college teachers and nine undergraduates from universities around the nation. (Details on their research teams and projects are below.)
N.C. A&T served as host for N. C. First Lego League Championships since 2006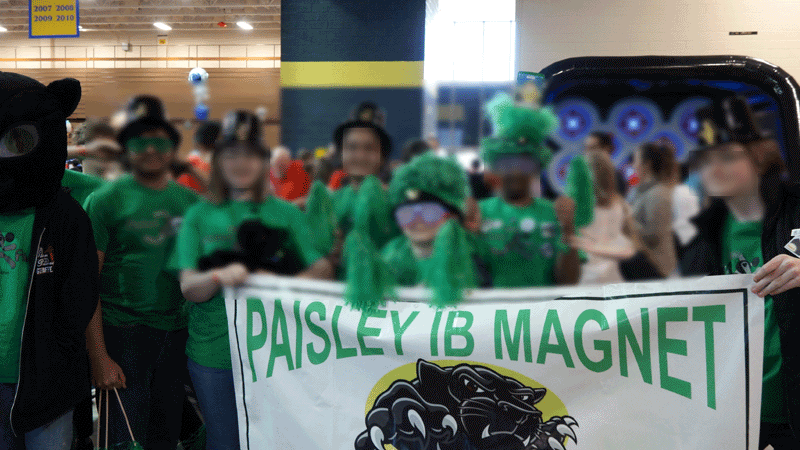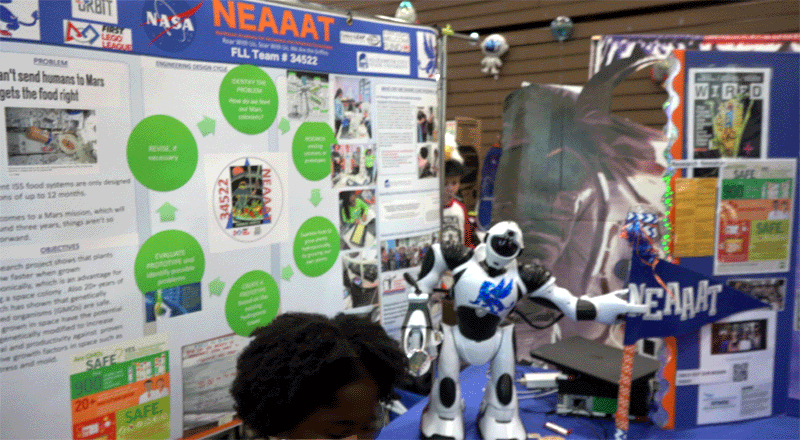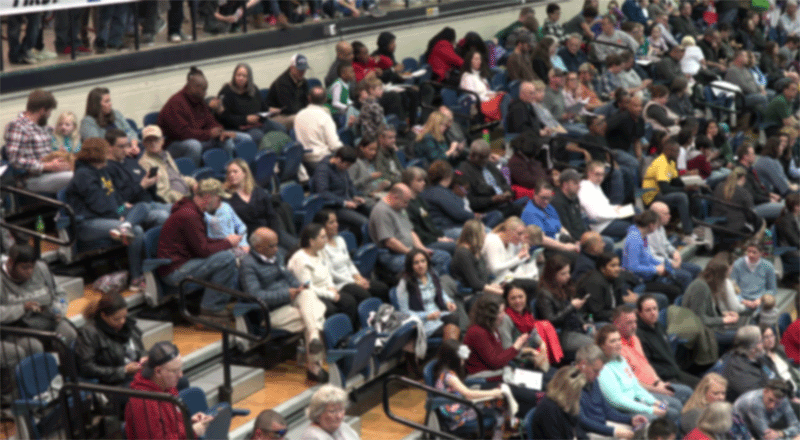 N.C. A&T was host for North Carolina FIRST LEGO League State Championship. Feb. 2 & Feb. 3, 2019 . Approximately 120 teams consisting of 4th-8th grade students from across North Carolina competed at the FIRST LEGO League (FLL) State Championships. Elizabeth City State University Northeast Academy for Aerospace and Advanced Technologies (NEAAAT) competed in the state championship
N.C. A&T's 10th annual Energy Day to Feature Oak Ridge National Lab Traveling Science Fair Todd Simmons

Ten thousand K-12 students are expected at North Carolina Agricultural and Technical State University April 9-10 for the 10th annual Energy Day,
which this year will showcase the Oak Ridge National Laboratory's Traveling SC.
"In this 10th year of Energy Day, we wanted to do something really special that would bring in more students than ever before to experience the exciting and growing developments in the field of energy," said CERT Director Greg Monty. "We're delighted to partner with Oak Ridge National Lab and believe students will have an unforgettable experience at this year's Energy Day."
COAACH's Annual Caregiver Education Conference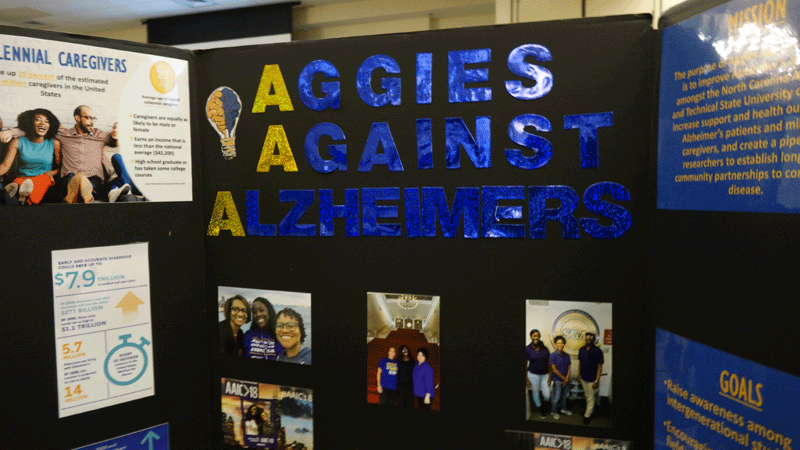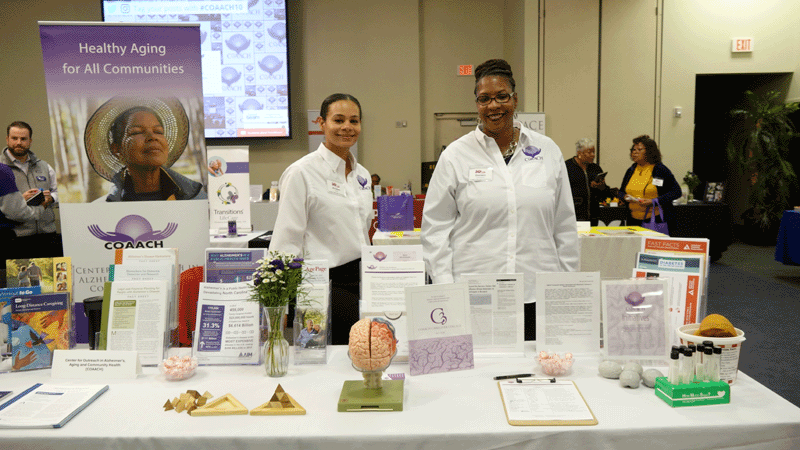 Agriculture is the Science, Technology, Engineering and Math (STEM) of Human Survival
A&T to Break Ground on Farm Pavilion -- Dan Nonte

GREENSBORO, N.C. (June 28, 2018) – The College of Agriculture and Environmental Sciences at N.C. A&T held a groundbreaking pavilion at the University Farm, 3136 McConnell Road in Greensboro.

The CAES Extension and Farm Pavilion will expand the farm's capacity for education,

research and outreach. Funded by USDA's National Institute for Food and Agriculture, the 17,000-square-foot structure.
N.C. A&T students co-host hundreds seeking agricultural careers
NC A&T booth at 2018 Farm Career Fair
GREENSBORO, N.C. (April 5, 2018) – A professional development organization for students in agricultural-related sciences holds its national conference this week in Greensboro, and students at North Carolina Agricultural and Technical State University are co-hosts of the event.

More than 1,200 students, faculty and industry leaders from across the country are expected for the Minorities in Agriculture, Natural Resources and Related Sciences (MANRRS) conference, Thursday through Saturday at the Koury Convention Center.

The annual gathering and career fair is tailored to students in a range of agriculture-related fields including agribusiness, animal sciences, biological engineering, fashion merchandising, environmental systems and food science. The event is co-hosted by the MANRRS chapter of the College of Agriculture and Environmental Sciences at N.C. A&T. Other hosts and sponsors include agrochemical and pharmaceutical companies BASF Corp., Bayer and Syngenta
Small Farm Education Week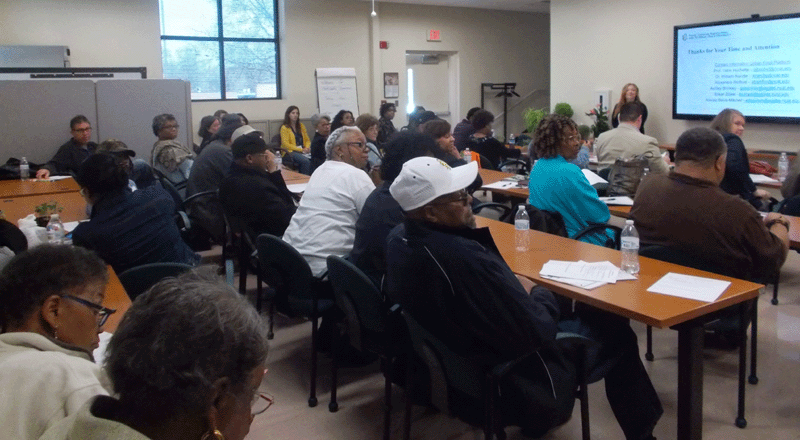 Everyday billions of people wake up hungry world wide, requiring at least one meal a day. North Carolina Agricultural and Technical State University's School of Agriculture & Environmental Sciences, and Cooperative Extension services, in support of the state's $84 billion Agriculture industry, are all hands on deck conducting workshops, tours, farming demonstrations and more in support of small scale farming in conjunction with the university mission as a Land-Grant Institution. Host for Bamboo Workshop Industrial-Hemp Production workshop
Tomorrow's Technology is at NC A&T Today
"Expertise in nanotechnology may become a prerequisite for many scientists and engineers that support a wide variety of industries, nano expertise among the North Carolina science and engineering workforce may soon become a competitive advantage issue for the state.
NCA&T is "well known in areas such as advanced materials, nanotechnology, computational science, and says N. Radhakrishnan, former for research and economic development at N.C. A&T. The school also has significant strengths in other areas, including biotechnology, energy and the environment, information sciences and technology, logistics and transportation development. All these endeavors are aligned in eight research clusters that bring faculty

Historical Black Land Grant NCA&T was listed as University focus on Nanotechnology in

2005.

Cross-town Historical White UNC Greensboro was not listed as a University focused on Nanotechnology.

together across disciplines to develop large research projects. These research clusters run in parallel with a number of multidisciplinary centers and institutes at N.C. A&T, which develop partnerships with private and corporate sponsors, educational institutions, and government agencies.

---

---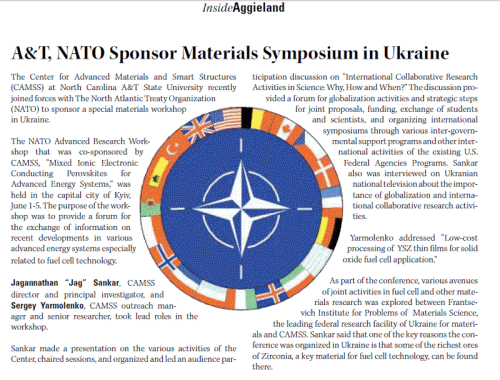 "We're Not Following Any Path, We're Blazing A Trail"

In 2003 A&T, NATO Sponsor Material Symposium in Ukraine.
In 2008 NC A&T received an 18 Million dollar grant for an Engineering Research Center (ECR) from the National Science foundation. The award to A&T marked the first time that an HBCU has been the lead institution of an ERC. The ERC has partnerships with pre-college institutions in North Carolina to involve teachers and students in engineering; it has partnerships with a broad range of North Carolina organizations devoted to entrepreneurship and small business development.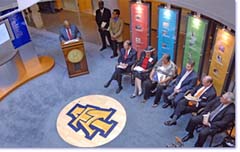 N.C. A&T Awarded NSF Engineering Research Center
Shena Crittendon,
Greensboro – North Carolina A&T State University has been awarded a grant for an Engineering Research Center (ERC) from the National Science Foundation (NSF). Engineering Research Center grants represent major investments by NSF in partnership with industry to transform engineering research and education. The centers aim to produce innovative technologies and engineering graduates to significantly enhance the competitiveness of the U.S. economy. Award funding has been approved at $18 million for the initial five years, with a potential duration of 10 years.
The NSF ERC for Revolutionizing Metallic Biomaterials at A&T will conduct research in the areas of biomedical engineering and nano-bio applications and is in partnership with the Universities of Cincinnati and Pittsburgh. It also has a global technical partner in Germany's Hannover School of Medicine and a global cultural and outreach partner in the Indian Institute of Technology, Madras, India. California State University at Los Angeles will serve as an outreach partner in the USA. The ERC has partnerships with pre-college institutions in North Carolina to involve teachers and students in engineering; it has partnerships with a broad range of North Carolina organizations devoted to entrepreneurship and small business development.
Nanotechnology is Experimental
NCA&T State University has been funded at an average rate of $3-5 million per year in the area of nanoscience and nanotechnology. Most of the research in nanoengineering is done in the Center for Advanced Materials and Smart Structures (CAMSS). Several Centers and projects are under CAMSS, including the NSF Center for Research Excellence in Science and Technology (CREST), the DoD Center for Nanoscience, Nanomaterials and Multifunctional Materials (CNN) for Homeland Security, the NSF Nanoscale Science and Engineering Center (NSEC), the NSF project on US/Europe Materials Collaboration: Self-Organized Nanostructured Thin Films for Catalysis, the NSF project on Nanoscale Interdisciplinary Research Teams (NIRT), the NSF Major Research Instrumentation for Nanoengineering Research, and the NSF Nanotechnology Undergraduate Education (NUE) program. CAMSS also facilitates many of the materials research activities of the NASA-National Institute for Aerospace (NIA). In addition, the Center for Composite Materials Research (CCMR) does research in nano-enhanced composite materials and the Army Center of Excellence for Battlefield Capability Enhancements (Flexible Displays) does research in material characterization and development of novel display. NCA&T was 4th in Nanotechnology Research at North Carolina Universities with $11 Million Dollars between 2000-2005.

---
N.C. A&T Aero Design Team Tops in the United States
Tiffany S. Jones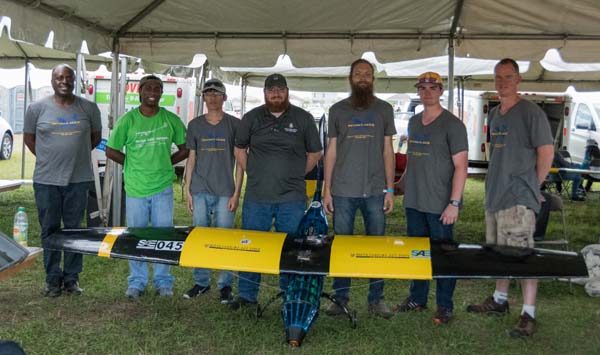 GREENSBORO, N.C. (May 2, 2018) – A team of seven North Carolina Agricultural and Technical State University students traveled to Van Nuys, Calif., recently to compete at the SAE International Aero Design West competition. They returned home the best team in the country.

"We have been going to these competitions for the last 20 years, and this is the highest we have ever placed," said Dr. John Kizito, a professor of mechanical engineering and the group's advisor.
"It was exciting, and I could not believe that we placed that high. The students answered the call, I told them, 'We are going to the competition to win, not just to attend.' They came out and won."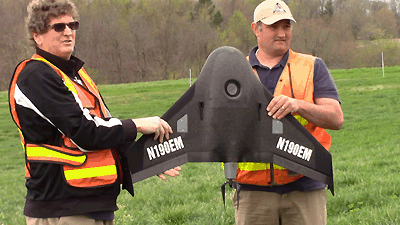 Drones Prove an Agile, Affordable Mechanism to Inspect Aging Civil Infrastructure
Tonya Dixon

EAST GREENSBORO, N.C. (May 24, 2019) – How do you inspect a bridge for signs of hazardous weakening or deterioration? It's not easy, but one method is an Unmanned Aerial Vehicle (UAV).

In October 2019, North Carolina Agricultural and Technical State University associate professor Dr. Ali Karimoddini, will assist North Carolina Department of Transportation (NCDOT) on a project titled "Developing a Safe and Cost-effective Flight Control Methodology for a UAV-enabled Bridge Inspection." Dr. Abdollah Homaifar, also from N.C. A&T, and Dr. Navid Goudarzi from UNC Charlotte will assist him on the project.

"We are one of few universities in the nation with these types of facilities," said Karimoddini. "Our facilities have enabled us to attract government agencies like NCDOT to investigate the development of drone technologies and their applications."

A national leader in autonomy capabilities and infrastructure for control of drones, N.C A&T has two UAV laboratories on campus, run by Karimoddini and his colleagues. Along with industry and government agencies, the laboratories have attracted many autonomy students.

"Our students have easy access to hands-on labs showing our cutting-edge technology, and they see career opportunities in this field when customers like the NCDOT express interest in using our technology."
---

NC A&T received $92 million in State Appropriation constituting 3.0 % of the approx. $3 billion dollar UNC Board of Governors annual appropriation. NC A&T attract $77 million dollars in tuition revenue and $63 million dollars in Sponsored Research in 2017- 2018, for a return of $1.5 dollars for every dollar of State appropriations. NC A&T need their equipment and student dollars to support NC A&T.
Updated 040120